iOS 14.6 is likely to be a far smaller update than 14.5, but will still bring some useful new features and bug fixes. If you just can't wait for the general release, you can download it as a public beta now -- we'll tell you how below. 
Here's what we know about iOS 14.6 so far. We've also collected all of the rumors about the upcoming iOS 15 update.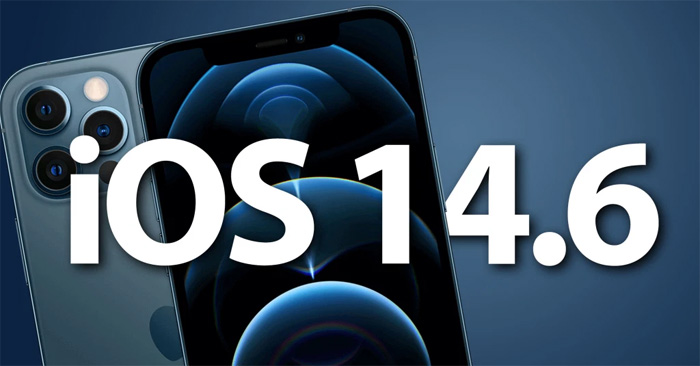 When is the iOS 14.6 release date?
iOS 14 was first launched in September, ahead of the release of the iPhone 12. New versions of Apple's mobile operating system typically arrive once a month with new features and bug fixes. However, iOS 14.5 was a larger update than usual, and took about three months to arrive. 
The latest version of Apple's operating system, iOS 14.6, is now available as a public beta. That means you can download it, but it may contain some bugs, as Apple is still working on it before its final release. We don't recommend downloading any beta on the device you use regularly. 
Apple doesn't publicly announce when it will release a new version of iOS, but we can follow some clues. Since the public beta became available on April 23, and releases come out roughly once a month, we expect to see the final version of iOS 14.6 by May, especially since this is likely to be a smaller update. Plus, we're expecting Apple to unveil iOS 15 at its Worldwide Developers Conference in June. 
How can I download the iOS 14.6 public beta? 
If you do want to download the iOS 14.6 public beta and try out some of the new features (again, we'd recommend doing so on a device you don't typically use, since there could be bugs), you first have to sign up for Apple's Beta Software Program. To do that, go to beta.apple.com/sp/betaprogram, and click Sign Up. You'll have to enter your Apple ID and password, and agree to the terms and conditions. Tap iOS, and under Get Started, click Enroll your Apple device. From there you'll find more instructions on how to do so. 
Once you're part of the program, you can go to Settings > Software Update, and when you see iOS 14.6 Public Beta, hit Download and Install. 
How will I download iOS 14.6 once it's generally available?
When it's released, you should get a prompt telling you that iOS 14.6 is now available and asking if you'd like to download it. Or you can do the following: 
1. Open the Settings app.
2. Select General.
3. Tap Software Update. 
Your device will connect to Apple's servers and prompt you to download and install the update. Follow the prompts to complete the installation. When your device reboots, it will be running iOS 14.6. (Check out our full instructions on preparing your phone and downloading iOS 14 here.)
What devices are compatible with iOS 14.6?
iOS 14.6 will be compatible with all the same devices as iOS 14. Generally, these include the iPhone 6S ($250 at Best Buy) all the way up through the iPhone 12, along with the iPhone SE ($160 at eBay) and the iPod Touch ($150 at Amazon) (seventh-gen). For the full list of devices compatible with iOS 14, click here. 
What new features does iOS 14.6 include?
We don't know much about what new features iOS 14.6 will bring. Again, since iOS 14.5 was a larger update with a lot of new features, it's likely that this one will be smaller, and more focused on under-the-hood changes. The beta download page says that it "contains bug fixes and improvements." We'll update this story once we learn more. 
For more, check out how to download iOS 14.5, and some of the best hidden iPhone features we've found in iOS 14. And before you make any OS updates, make sure your iPhone and iPad are ready to do so. 
New Features in iOS & iPadOS 14.6 Beta
Devices can now send install-validation postbacks to multiple ad networks that sign their ads using SKAdNetwork version 3.0. One ad network receives a postback with a did-win parameter value of true for the ad impression that wins the ad attribution. Up to five other ad networks receive a postback with a did-win value of false if their ad impressions qualified for, but didn't win, the attribution. (72917087)
Software Update
New Features in iOS & iPadOS 14.6 Beta
You can now directly update your iOS or iPadOS device to the latest Release Candidate without removing the beta profile. After updating to the Release Candidate, you can choose to update to the next available beta or uninstall the profile to remove your device from the beta program. (66256273)
Xcode
Deprecations
Don't use the iOS MinimumOSVersion information property list key to declare the minimum release of macOS in which your app runs. Use LSMinimumSystemVersion instead. (73890473)

Future releases of macOS ignore the MinimumOSVersion key in Mac apps, including apps built with Mac Catalyst.

Future releases of macOS use the LSMinimumSystemVersion key in iOS apps built with Xcode 12.5 or later. If an iOS app doesn't include an LSMinimumSystemVersion key, future releases of macOS compare the app's MinimumOSVersion with the version of its Mac Catalyst runtime to determine compatibility.
What's Broken/What's Fixed?
Apple's official release notes for iOS 14.6 list a few things that are mostly developer-focused, but no bugs or known issues.
That doesn't mean that they don't exist. While iOS 14.6 is expected to be pretty light, bug-wise, if you see any weird behavior, especially around third-party apps, report them via the Feedback app.
What's Next?
Other than the "new" feature for iOS 14.6, there's really not much going on in this beta cycle that's public-facing. Given the vast feature set of iOS 14.5, I totally understand. They packed that version of iOS so full, Apple needs to take its foot off the gas and coast a bit, fixing bugs and shoring things up for the upcoming iOS 15 release. 
So when will we be done with iOS 14? Not for another couple of months at least. iOS 15 will be announced at WWDC on June 7. It'll be a few weeks after that before Public Beta Program participants will be able to get their hands on the first build. It'll be interesting to see how this new feature handles the new beta. Historically, participating in the next big release means blowing away your old profile. 
I don't think anyone was expecting iOS 14.6 to come out before iOS 14.5 had even been released to the public (I know I didn't). So this could end up being a quick build that Apple releases to coincide with next week's AirTags ship date. Time will tell.
Whatever happens, I'll be back next week to let you know!