The iPhone 12 series employs Apple's most durable glass ever on the front screen (it's infused with ceramic to make it highly scratch and break resistant) but it isn't indestructible. Plus there's the fact that the rear glass is still Apple's standard (which is good, but not nearly as good as the front) and the metal sides are prone to denting. 
Fret not, because we've rounded up the best iPhone 12 Pro Max cases, from MagSafe-compatible to wallets, folios and plenty of other alternatives. Don't have the big behemoth? Check out the best iPhone 12 Pro Max cases instead.
---
Best  iPhone 12 Pro Max MagSafe Case
Apple Silicone Case with MagSafe
Apple Silicone Case with MagSafe (for iPhone 12 Pro Max) - Kumquat
This might be a cheat, because of course Apple has the best official case. But I really like their approach with this MagSafe case. Rather than have a bezel that you have to shove around your iPhone 12 Pro Max, the raised bezel is minimal. This provides protection while allowing the case to pop on and off using the MagSafe tech. The Otterbox approach has been to basically give us a regular iPhone case, but with magnets which... isn't quite the same thing. 
I really like the Kumquat and think it provides a stunning contrast to the Pacific Blue iPhone 12 Pro Max. Apple's clean design aesthetic really shines in their cases. And in-hand, the soft-touch silicone just feels nicer than other cases. The micro-fiber interior keeps your iPhone safe from errant grit that might find its way into the case. 
Best  iPhone 12 Pro Max OtterBox Case
Otterbox Symmetry Series+
Otterbox was one of the first third-party MagSafe case makers, and they made it count with their Symmetry Series+. While they might not pop on and off like Apple's MagSafe cases, they make up for it with the extra level of protection that Otterbox is known for.  
The Symmetry Series+ case is rated to three times military drop standards and has long-wear antimicrobial coatings. The case itself is infused with a silver-based additive to inhibit microbial growth. It's more expensive than Otterbox's other offerings, but it's also going to keep you and your iPhone more protected. 
---
Nerdiest And Cutest Case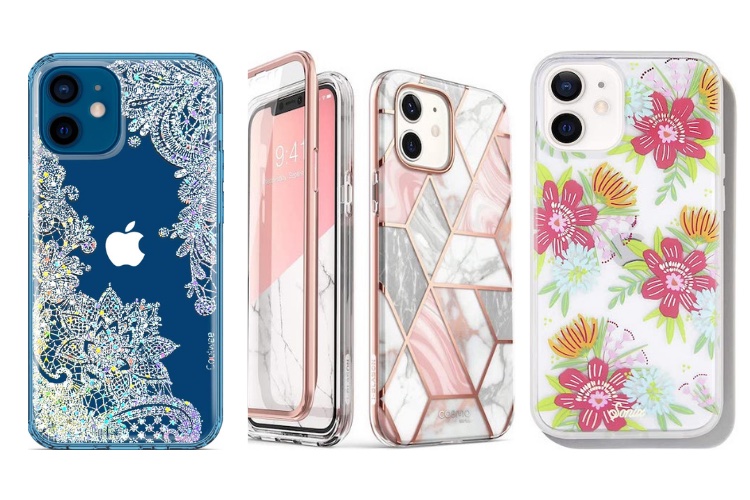 The Child Scatter Case by Otterbox
Looking for cute and nerdy? Then you'll need to head over to Otterbox's custom site and grab this adorable Star Wars: The Mandalorian-inspired case. Based on their Symmetry case (so no MagSafe capability) your iPhone 12 Pro Max will have extreme protection and be emblazoned with adorable The Child and Mando helmet stickers.
---
 Best iPhone 12 Pro Max Thinnest Case
Totallee Thin Case
Totallee cases buck the over-engineering trend and do something that could be called, well, "under-engineered." Their Thin Case for the iPhone 12 Pro Max is .02 inches thick. It barely adds any bulk to the iPhone and yet it still protects the back glass and sides from drops and scratches. The raised lip around the camera keeps it protected as well. There's a clear version if you want to get minimalist or a Pacific Blue version that matches the iPhone 12 Pro exclusive color. 
---
Built From Sustainable Materials
Lifeproof Wake
Made from 85% recycled plastic, the Lifeproof Wake is one of the most environmentally friendly ways to protect your device. Lifeproof creates their material from reclaimed fishing nets at the end of their useful life. Usually, commercial fishermen will toss these nets in the garbage or simply cut them loose at sea where they drift on the bottom of the ocean and create a major environmental hazard.
Lifeproof intercepts those nets, breaks them down into black, dark green, or light green pellets, and then turns that plastic into ultra-thin, drop-proof, one piece cases. There's a nice wave design on the back of the case that makes it easy to grip as well.
Lifeproof is dedicated to improving the life cycle of their products and encourage you to send the case back to them when you're done with it. They'll reclaim the material from the case and put it to use in a new case (they're working on accepting non-Wake cases as well). For every purchase or registered case, Lifeproof donates a dollar to a water-focused charity.  
---
Most Protective Case
Mous Limitless 3.0
Mous has dropped the Limitless case from 45 feet in the air, kicked it with ice skates, rolled it down rocky mountain trails and more to prove the effectiveness of their AiroShock material. The raised bezel of the case keeps your screen protected. 
The Limitless cases are as stylish as they are durable, with multiple leather, wood, and fiber choices. They also have a line of magnetic accessories that's compatible with their line of cases. This is good, since the extra thickness of the case will interfere with MagSafe accessories like card wallets. What's nice is that if you travel often (when we can "travel often" again), there's a place built right into the case for extra SIM cards and a SIM removal tool.  
---
Best Case For Germaphobes
Aeris Copper Case
If you're looking for a case that's not only attractive but anti-microbial, check out the Copper Case from Aeris. Truly unique, the real copper outer nanocoat develops a patina over time (kind of like leather). Copper also inhibits germ growth, a nice bonus to help further your protection against the coronavirus. That copper outer coat surrounds a polycarbonate shell that protects your iPhone 12 Pro Max from drops and accidents. Pro Max cases are currently available for pre-order and will ship the second week of December.
---
Best Case for Gaming
Razer Arctech Pro
The extra RAM and processing power of the iPhone 12 Pro Max is great for next-gen mobile gaming but it also means it's likely to get hotter. Add a case to a hot iPhone and that can mean disaster. Razer has risen to the challenge with their Arctech Pro case.
The Arctech Pro case has a layer of Thermapene inside that traps and directs heat out of the back of the case to keep your phone cool and protected. It's also antimicrobial to keep germs from growing on your iPhone. Razer has also shaved down the interior bumpers right around the areas where the 5G antennas are on the iPhone 12 Pro Max. It's a nice touch and shows how dedicated Razer is to performance. 
---
 iPhone 12 Pro Max Case With The Best Grip
Otterbox Easy Grip Gaming Case
Otterbox has gone all in on mobile gaming with their new gaming accessories. There are antimicrobial shells for various Xbox controllers, an articulating phone holder to attach to the controller, a convenient carrying case that'll hold your controller with the holder attached, a horizontal privacy glass cover (most privacy glass is vertically oriented) and this Easy Grip Gaming Case.
The antimicrobial case has a custom textured design so that you maintain your grip on your phone even if your hands get sweaty. It also has special "CoolVergence" heat dispersing material built into the case so that your iPhone doesn't overheat in the middle of an intense game. Of course, it has the superior drop protection that Otterbox is known for, 3x military standard even though the case is barely thicker than a normal case. It's built to pair with Otterbox's other gaming accessories, but it's perfectly fine on its own.
---
Best Leather Case
Apple Leather Case with MagSafe
iPhone 12 Pro Max Leather Case with MagSafe - California Poppy
Apple's leather MagSafe cases are the best that a new iPhone 12 Pro Max owner can get. I picked up the yellow California Poppy as soon as it was available. The built-in magnets align with your new iPhone and snap into place "magically" but I in reality it's a pretty standard "shove your phone into the case" process. Still, Apple is dedicated to making a premium experience. When you put your case on, there's a tiny little "click" sound effect that plays and a quick screen effect that matches the case color. It's pretty neat.
In-hand, the leather Apple uses is premium quality and feels great. The only caveat (and Apple points this out in the case description) is that MagSafe accessories will leave imprints in the leather over time.
Best Wallet Case
Nomad Rugged Leather Folio
Rugged Leather Folio for iPhone 12 Pro Max, Brown
Nomad makes some of the best cases on the market today. The natural, vegetable-tanned Horween leather of the Rugged Leather Folio case for the iPhone 12 Pro Max is a perfect example. It combines beautiful vegetable-tanned Horween leather with a rubber shock-absorbing bumper that can withstand up to a 10-foot drop. The leather of the case will age as you use it, darkening and developing the telltale scratches and imperfections of good leather. It has a cover that can hold up to six cards and some cash. Even better? It's MagSafe compatible!
The Rugged Leather Folio will also develop a patina over time and can absorb major falls and shocks. Speaking of falls, you might want to invest in a glass protector to make sure cards in the cover don't end up scratching your screen (especially if you have an Apple Card in there). 
There are also two lanyard attachment points on the bottom of the case in case you're the type that likes to use a wrist strap with their iPhone. The colors available are also available in Apple Watch straps, so if you'd like your iPhone and Apple Watch to match, you can make that magic happen.  
---
Best Slim Wallet Case
Mujjo Full Leather Wallet Case
Premium Quality Leather Wallet Case for 6.7-inch iPhone 12 Pro Max in Tan
The Mujjo leather wallet case is a great alternative for those who don't want to keep their iPhone in a folio and aren't interested in Apple's leather card wallet. The card sleeve built right into the back of the full leather case is must big enough for a credit card, your license, and maybe an insurance card. All you really need if you're just heading out the door for a second. This is a full leather case, including the sides and buttons, so you don't have any ugly polycarbonate bumpers marring the design. Mujjo's cases also come in blue, black, and a lovely hunter green.
---
Best Folio Case
Pipetto Origami Folio
iPhone 12 Pro Max (6.7-inch) 2020 - Origami Folio Case - Dusty Pink
The neat thing about Pipetto's folio case is that the cover is multi-functional. With a little squeeze, it becomes a stand for your iPhone 12 Pro Max, making it easier to watch videos hands-free. You can even fold the cover up on itself so that the iPhone is slightly raised for typing. (Don't laugh—the 12 Pro Max is just big enough to accommodate it).
The case itself is infused with anti-microbial material rather than just coated, so it won't wear off over time. And if you want some extra protection and get a protector for the front glass (Otterbox makes some excellent anti-microbial ones), this case is designed to sit flush with any screen protectors.
---
Best Wooden Case
Oakywood
Oakywood hand polishes the Cherry or Walnut wood that makes up the back panel of their durable bumper cases. The raised bumper on the front of the case will protect the screen in the even that you drop your new iPhone 12 Pro Max on its gigantic front screen. 
The Oakywood cases look even better when paired with one of their wooden charging stations. They may not have the magnetic "snap" of Apple's MagSafe charger, but they have a rustic charm that you'll never find coming from the house that Jobs built.
Why your iphone 12 pro max need a case
Any new phone is an investment, but that's arguably even more true when you have an iPhone 12 Pro Max in your pocket.
Apple's largest iPhone is also 2020's most expensive, and with the sleek design offering little in the way of grip, a case is a must.
We've dug through the options to showcase ten of the finest protective cases for your shiny new iPhone, to ensure both the gorgeous design and huge display stay in one piece.
We haven't had all of these iPhone 12 Pro Max cases in our test labs yet, but based on our experts' opinion and knowledge of the most reputable brands around, we think these are worth looking at.
Our selections – ranked by price - take into account online reviews, brand reputation, product capability, or unique features, to help you pick through the maze of choices available to you.
Which is the best iphone 12 pro max case
This is a design-change year for the iPhone, which means last year's iPhone 11 cases won't fit the new iPhone 12 models, meaning the iPhone 12 and 12 Pro as well as the iPhone 12 Pro Max and iPhone 12 Mini. Apple has returned to a square-edged design that harkens back to the iPhone 5 and 5S. If you're trying to make up your mind between the iPhone 12 and 12 Pro, the good news is that those models are identical in size and take the same case.
Note that all the new iPhone 12 models are equipped with Apple's new MagSafe feature, which offers faster wireless charging with a compatible charger. It also supports optional accessories -- including a mini wallet -- that adhere magnetically to the back of your phone. The new iPhones have what Apple describes as "an array of magnets" (Apple says they're recycled) embedded around a charging coil that can pull up to 15 watts of power. That's twice as powerful as wireless charging on previous iPhones, but on par with the power that many Android phones can draw from standard Qi wireless chargers.
To get the 15-watt charging speeds, you'll need an Apple MagSafe charger or an Apple-approved MagSafe charger from a third-party accessory maker, but your phone will still charge at up to 7.5 watts with standard wireless chargers that support that speed or higher. Most of the cases on this list are compatible with wireless charging and some are Apple-certified MagSafe cases with integrated magnets. Also, check out our list of best MagSafe and magnetic wireless chargers for the iPhone 12.

I'll be updating this list of picks for the best iPhone 12 case with new options as they continue to arrive. In the meantime, this list is based on case brands we've grown to like on previous iPhones. Finally, many of these links go straight to the manufacturer's website for now, but the cases should appear at Amazon and other retailers in the near future.