For many, phones have completely replaced dedicated digital cameras, but even pros reach for their iPhones or Samsung Galaxy phones to snap images from time to time. Here's how to take better pics with your smartphone.
Your smartphone is always with you, a constant companion that can connect to the web to look up any tiny nugget of trivia, and generally keep you in constant contact with the outside world. It's one of the key items you grab before leaving the house, and the last time you (probably) turned it off was at the movie theater.
This also makes your phone your take-everywhere, shoot-anything digital camera. Just a few short years ago, making images and video with smartphones was a compromise, with poorer image quality but a heck of a lot more convenience than a good point-and-shoot camera.
But times have changed and phone cameras have gotten better and better. The latest models offer superior imaging and video to budget point-and-shoot cameras and offer nifty software tricks to blur backgrounds, just like an SLR and f/2 or f/1.4 lens.
Check out these tips to get the best images you can get from your phone. But remember, even with the latest tech, phones aren't as versatile imaging tools as modern interchangeable lens cameras.
Start With a Good Camera Phone
Smartphone camera quality has enjoyed a big leap forward in quality over the past couple of years. If you're using an older handset, chances are the camera isn't up to snuff. If camera quality is a priority when shopping for a new one, make sure you peruse our list of the top camera phones we've tested. But remember that you really can't go wrong with the latest Apple iPhone, Google Pixel, or Samsung Galaxy devices.
What is Good Camera Phone ?
The best camera phones are pushing the boundaries of technology and are often capable of delivering better results than the 'proper' camera in your kit bag. As screens get larger, camera phone sensors get more advanced and chipsets get more powerful, it can be tricky to keep track of the latest and greatest handsets. Luckily, we've rounded up the best for you right here.
The best camera phones don't just deliver pure power – they're also a perfect package of convenience, with countless apps at your fingertips. However, one of the most impressive aspects of these handsets is their megapixel count. The Samsung Galaxy S20 Ultra has an impressive 108MP sensor, 8K video and a 100x digital zoom – specs that traditional cameras just haven't achieved yet.
Look for the Light
Smartphones have very bright lenses, but sensors are much smaller than you find in a premium compact camera with a 1-inch sensor like the Canon PowerShot G7 X Mark II. That gives them a distinct disadvantage in image quality in dim lighting. To get the best shots, look for opportunities where your phone's sensor can shine. If you're indoors, try to set up your shot so there's light falling on your subject—some window light will do more to improve your photos than a new phone or camera. It's always a better option to find good light as opposed to using your phone's underpowered LED flash.
Adjust Exposure
Smartphones are the modern point-and-shoot, but the apps that run their cameras typically offer some level of manual control. The most basic adjustment you can make is exposure—brightening or darkening a scene—and using it effectively can turn a bland image into a head-turner. Use it to brighten the shot of your fancy dinner to make it perfect for Instagram, or to darken shadows in a portrait for a more dramatic look.
The feature isn't always labeled the same. On an iPhone you'll want to drag the sun icon, to the right of the focus confirmation box, up to brighten an image or down to darken it. Android phones typically have the more traditional +/- icon for exposure adjustment.
How to Adjust Exposure
Select your camera's manual mode.
Decide what exposure control you want to set first. ...
Set the first value. ...
Set the second exposure control. ...
Adjust the third exposure control to get the right exposure. ...
Take a photo.
Review it. ...
Continue adjustments, if necessary.
Turn On Your Grid
Pro SLRs typically have framing grids in the viewfinder window to help you better square up shots and conform to compositional guidelines like the rule of thirds. (For more on composition and other photo basics, read our tips for basic photography, which apply as much to smartphones as they do to pro cameras.)
You can turn on the same thing in your phone's camera app. Adding a grid line gives you help in keeping the horizon straight and is a big plus for portraits in front of famous landmarks. With the notable exception of the Leaning Tower of Pisa, it's generally a good idea to keep upright structures perfectly vertical in your photos.
How to enable grid lines
Launch the Settings app from the Home screen of your iPhone or iPad.
Tap on Photos & Camera. You have to scroll down a bit to find it.
Tap the switch next to Grid to turn it on. It's about halfway down, under the Camera section.
Learn Your Camera's Features
The imaging capabilities of modern smartphone cameras are staggering. We've seen advances in computational photography that allow you to blur the background of images, mimicking the look of a wide aperture lens and big image sensor, and some handsets can also capture insanely slow-motion video.
Your phone probably has a good burst mode too, and it's never a bad idea to take a few images in a sequence to get the best one—just make sure not to post all of them. iPhone owners can check out Live Photos, which mix still images and video together.
How to Learn Your Camera's Features
Shooting Modes. Aperture Priority Mode. ...
ISO. ...
Focusing Modes (Single Point vs. ...
Back Focus. ...
Exposure Compensation. ...
Custom White Balance. ...
Highlight Control (The Blinkies) ...
Metering Modes.
Try an Add-On Lens
Your phone's camera certainly has one lens, and some models offer dual rear cameras with the second lens capturing a tighter or wider angle of view than your phone's main eye. A quality add-on lens will cost you—the bargain-basement ones we've reviewed have been universally terrible. Go with a trusted brand like Moment or Olloclip.
Picking the type of add-on lens is important too. I think a macro adds the most versatility to your phone's camera, but you may prefer an ultra-wide, a fish-eye, or a telephoto conversion lens.
Focus Close
Even without a macro add-on, your phone can focus pretty close. Use it to your advantage. You can snap a shot of your fancy dinner and get close up, but keep the whole frame in focus. That's something you can't do with a big camera shooting at f/1.4 or f/2, and one of the areas where small image sensors have a practical advantage over larger ones.
Get a Gimbal
It's not all about images. Entry-level compact cameras are stuck at 720p, but if you've got a recent smartphone you have a 4K-capable video camera in your pocket. Flagship models include optical image stabilization, but that can only go so far. If you want truly smooth, great-looking video, think about a powered gimbal to keep your phone steady. Our favorite is the DJI Osmo Mobile 2, a $130 device that steadies video, can track moving subjects, and also supports time-lapse and panoramic stitching.
Add a Microphone
When shooting video, good audio is more important than sharp footage. Your phone's internal mic is meant for making phone calls—not recording high-quality audio. Headphone jacks may be disappearing from phones, but you can get a microphone that plugs directly into your USB or Lightning port, or one that works with your phone's audio dongle. Just make sure to read some reviews to make sure the mic is compatible with your particular phone and its operating system.
Edit Your Shots
Your phone is a powerful handheld computer, just as capable of making basic image adjustments as a high-end laptop running Photoshop. You should download some image editing software—my favorite is VSCO, a free download for both Android and iOS—or use the basic image editing tools built into your operating system.
More advanced photographers can enable Raw capture, which will deliver much more leeway in editing. And if you have a dual-lens iPhone, you can add an app like Focus, which allows you to adjust the amount of and quality of background blur in your Portrait Mode shots.
Your Best Tips?
We hope you've learned something new and will continue to use your smartphone to capture the world around you. For more advanced suggestions, check out our 10 beyond-basic digital photography tips.
Do you have a favorite tip, photo app, or accessory for use with your smartphone's camera? Please share it in the comments below.
Smartphone photography: 6 pro tips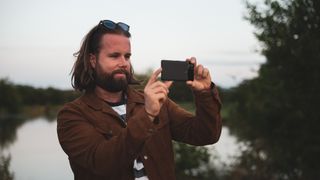 Smartphone photography has transformed recently because of leaps forward in technology. To make sure you make the most of all phone photography can be, it's crucial you utilise the settings on your phone correctly. In this post, we lay out six tips to enable you to harness the power within your smartphone and elevate your photos.

Though smartphones may never rival a dedicated DSLR or mirrorless camera such as those used by serious photographers, they can still capture some impressive images (our best camera phones list has those that take the best snaps). You can even buy some pretty good detachable lenses and filters, which complement the phone optics. Or for times when you need something more heavy-duty, we've also found the best cameras for creatives.

Store your snaps with one of the best cloud storage solutions

Routinely, smartphone photography takes place in less than ideal lighting conditions, and users rarely stray from the automatic exposure and focusing the device is preset with. This means that phone photography is, more often than not, lacklustre – leaving users frustrated and confused. Simply taking a few steps to learn about your tech and keeping one eye on the lighting can avoid some of the common problems associated with smartphone photography.

Read on for some advice that you can use every time you pull the phone from your pocket, wherever you are, to make the most of that sophisticated computer-powered camera you almost always carry with you.
01. Take portraits in shade
The best way to immediately improve your portraits and selfies is to move into shade. Stand under the shadow of a tree or building and notice the soft, diffused light that wraps around the face. This is the quality of light that you should seek most often to complement features. 
If outside, shoot towards open shade by placing your subject at the very edge of the shaded area. If posing inside, place the window to one side of you as you shoot the subject. This will provide similarly diffused light as open shade, but with more directionality. Look for a triangle of light on the subject's cheek that's farthest away from the window – this is called Rembrandt lighting, named after the painterly master himself.
02. Tap to meter
Smartphones struggle to expose dark, dimly-lit subjects against bright backgrounds (think shaded landscapes in midday sun). There's no smartphone hardware out there (yet) that can cope with such a wide dynamic range, so you must tell the device where to meter the light from in order to get a clear shot. 
It can be useful to manually override the automatic exposure settings by tapping on the dark subject to expose the shadows. By telling the device where to meter from, you can make the image brighter and thereby regain detail in the darker areas of the frame. 
The reverse is true for shooting subjects brighter than their surroundings. When faced with bright scenes, the device can overexpose the image, producing clipping in the highlights – this means the camera reads the area as completely white, and you'll be unable to restore detail during the editing process. If you want to capture detail in the brightest sections of your scene, tap on the bright section to deliberately underexpose your photograph.
You may even want to switch on HDR mode to stop the bright sky from clipping and bleaching out. If you're going to do this, hold the camera still during exposure or it can all get a bit blurry.
03. Know your camera shortcut
The ability to react to a fleeting moment is half the battle when it comes to snapping a great shot. To take photos quickly you should learn your smartphone's shortcut for accessing the camera. 
For some Android phones, such as the Google Pixel 3, this means double-tapping the power button, whereas iPhones might be a quick swipe-up from the corner of the screen or hard press of the camera icon. If you're shooting with an iPhone X, swipe down the Control Centre, then press and hold the camera icon to display multiple camera options such as Take Selfie or Record Video. 
Whatever smartphone you have, make sure you know how to get your camera up quickly, so you can capture the moment.
04. Use portrait mode
Smartphones have wide-angle lenses that inherently produce a long depth of field – meaning the images are mostly going to be pin-sharp from foreground to background. This might be good for a huge vista, but it's not so good for isolating your subjects against the background, and can produce unflattering portraits of even the most photogenic of us. 
Shooting on a wide aperture, a longer focal length lens (such as an 85mm f/1.4) provides a flattering shallow depth of field. Since in-built smartphone lenses don't do this naturally, the phone's software works hard to apply a filter to mimic this. This filter is normally called Portrait mode. 
Engage this mode and you can expect to generate an effect where the environment behind your subject is nicely blurred. But beware busy and cluttered backgrounds, as the filter (try as it might) sometimes can't keep up. Although named Portrait mode, this function works well on any subject that benefits from a touch of isolation from the background.
05. Shoot in Raw
A Raw file is a compressed lossless image file format that saves much more image data than a typical lossy JPEG. More data equals more editing flexibility. That means it's far easier to adjust exposure levels, check white balance and manipulate colours when editing in apps like Snapseed, VCSO and Halide (take a look at our guide to the best photo editing apps).

However, that comes at the cost of a bigger file, which if you're tight for space on your handset, you might want to avoid for everyday use. Engage Raw shooting mode when you're aiming for better quality editing controls or if you want to print your photos from that once-in-a-lifetime holiday.

For photo editing in double-quick time, explore our roundup of the best free Photoshop actions.
06. Clean the lens
It might sound obvious, but when was the last time you turned your phone over and gave the lens a good clean? A simple wipe with your top will do at a pinch when you're out and about, but it's good to use lens cleaning fluid or glasses wipes every so often to lift residual dirt and debris. Natural oils from your hands build up on the lens during use, so they attract dirt and debris. This combination of dirt and oil can produce unsightly flaring, and at worst make your photos appear soft. Give the lens a good clean every few weeks to eliminate flare, improve contrast, and take sharper shots.